How do you Store Rowing Oars? – Part II
Although we are totally biased with regard to who has the best rowing storage solutions, we wanted to know how other clubs managed their boathouse oar storage. In our previous post, we saw a diverse range of horizontal storage applications (Read Part I here). In part II, we will focus our attention on vertical racking solutions.
Part II – Vertical Racking Solutions
Single Oar Vertical Rack
A simple solution for smaller clubs, is the single oar vertical arrangement, as seen below. By lining the oars up in a single row, the rack system does not intrude on too much floor space. However, due to the height of the oars vs. the roof, the rack had to be attached protruding out from the wall to fit them in. This design has its limitations however, as they've had to jack the rack forward so the oar handles don't hit the roof using shelf brackets.  And also the large wall space taken up by the single rack becomes inefficient as the club continues to grow and add new plant.
Vertical Square Rack
One alternative to the single rack is this vertical square rack. More oars can be stored on this rack than on the single row, due to the multiple slots per row. However, retrieving oars from the back of the setup proves difficult as the blades are slotted in place via the square frames at the top.  It's a bit fiddly feeding them into the right slot.
An advantage however, is the fact that they take up less space, squeezing in to a previously unusable gap between the two boat racks. Oars are also very stable in this rack, due to the individual slots at the top.
Back-to-Back Oar Bracket
A more basic design than our own hanging oar brackets, these wall mounted brackets allow a back to back oar storage arrangement. This means each bracket can hold up to 12 oars, making it a great option for storing large quantities of oars. However, because the individual slots are directly back to back, additional space is required at the spoon end to fit in the same number as would be required with a SSRS oar bracket.
Hanging Channel Brackets
Perhaps the most impressive looking design we have seen, is this custom arrangement by Curtin University Rowing Club in Perth, Australia. By arranging multiple wall racks at different heights, the club are able to fit their sweep and scull oars in side by side. Again this configuration is limited by the inability to access the oars tucked away at the back of the rack and obviously requires plenty of vertical space to get it all in there. You can't say it doesn't at least look impressive though right?
SSRS Hanging Oar Brackets
Lastly, we have our very own Oar Hanging Racks. We feel we have got the best out of all the above options; vertical storage, staggered back to back hooks, easy access to each and every oar on the rack and wall mounting brackets to fit as many or as few as required.
They also feature a unique locking design around the collar/sleeve that prevents oars from falling out of their slots, unlike some basic designs. And the angled hang allows the spoons to overlap keeping space usage very compact.  SSRS oar brackets can be purchased here.  Remember we do sweep and sculling!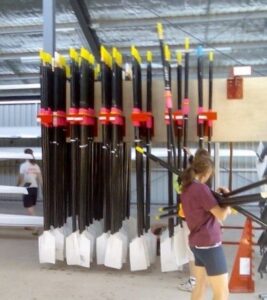 So which works best for you? Horizontal or vertical? Let us know!
You may even inspire the next generation of Space Saver designs!
Would you club benefit from a SSRS Oar Hanging Rack? Get in touch with us and see how we can help you!
Tell us about your storage solutions
[/fusion_builder_column][/fusion_builder_row][/fusion_builder_container]