Boathouse Spotlight: Kansas University Boathouse
This week we're jumping back a few years and taking a look at the magnificent Kansas University Boathouse!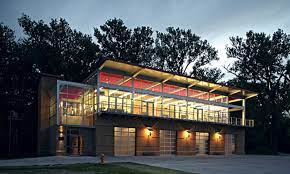 Completed in January of 2009, the Kansas Rowing Boathouse sits near the Kansas River in Lawrence's Burcham Park. Nestled into a grove of cottonwood trees, the design maximizes river views and capitalizes on natural light to provide daylight in the team room throughout the day. The 14,000 square foot facility was dedicated on February 28, 2009.Built to withstand a flood event of eight feet, the boathouse can house 65 boats at a time in the lower level storage area. The boathouse features storage space for boat shells, oars and rigging equipment, and provides a team room, offices and locker rooms.
With a 90-locker team locker room and a 50-locker public locker room, the boathouse accommodates both the Kansas women's rowing team and the Kansas Crew Club.
Also sporting a full kitchen and catering room, the boathouse provides a great place for rowers to congregate during the season and the 2,000 square foot multi-functional team room provides a place for the team to build camaraderie.
The boathouse also has a second level deck that allows rowers to spend time outside before practice.
Construction for the boathouse was funded in large part by a special student activities fee ratified by the University's student body in 2006.
As far as dream boathouses go, we think this one is pretty spectacular!
How would you design your dream boathouse if you had the opportunity?
If you are in the process of developing a new boathouse, or simply upgrading your existing one, don't forget to check out some of the great advice we have on our Boathouse Redevelopment page!